Creating adventure, relaxation, fun, health and wellbeing through social and recreational activities
​
George Gray Centre provides a range of activities to suit you and we specialise in supporting people of all ages and disabilities and believe that anything is achievable.
You will find some of our most popular recreational activities listed below, however if you would prefer to enjoy an activity on your own, we can assist with that too.
We are here to support you with whatever goal you want to achieve.
Current Activities July 2021
Music Therapy/Low impact basketball
---
Particpants are encouraged to use a variety of different instruments whilst exploring a range of music genres.
Impact basketball iis a community based program focusing on balance, coordination and strength building exercises. The session includes a friendly game of basketball suitable for those in wheelchairs and with mobility aids.
---
Sensory Cooking made fun
---
Preparing and cooking foods can be a great sensory experience and fun learning experience. This activity includes the opportunity to enhance the use of gross and fine motor skills by using a variety of equipment to mix, mash, and roll. Explore the senosry benefits of manipulating ingediets to expose textures and smells through the cooking process.
---
Mens Shed Heyfiled
---
This activity is community based and focuses on basic woodworking skills. Particpants wiil complete a project to take home whilst learning basic skills
---
Green Thumbs
---
The Green Thumbs programs aim to build environmental awareness and plant identification skills.
By participating in the Green Thumbs program at GGC we aim for participants to develop an understanding of the responsibilities involved with being a valued volunteer in our organisation. This program also promotes the building of practical skills.
Currently this program is working from the Mary Fields Hall in Sale.
---
Individual Activities
---
This activity allows for freedom of choice for those particpants who prefer to choose there own activities within a group setting. Particpants are assisted with the projects of their own choosing as well as to socialize with peers.
---
Riding for the Disabled
---
The primary objective of Riding for the Disabled Association (RDA) is to provide people with a disability, the opportunity to ride and enjoy all the activities connected with horse riding. Riding for people with a disability is both therapeutic and recreational and RDA is in fact one of the few organisations who offer a multi-diagnostic service, catering for people with a wide range of disabilities.
The objectives of RDA are to encourage, support and assist Centres to provide riding therapy, sport, recreation, training and safety programs for people with disabilities. RDA programs in horse riding, carriage driving, dressage, cater for people with all kinds of disability including intellectual disabilities, specific learning disorders, injuries resulting from accidents, cerebral palsy, psychiatric disorders, spinal bifida, muscular dystrophy, multiple sclerosis, thalidomide, visual and hearing impairments, autism and amputees.
Horse riding is a unique form of exercise and rehabilitation. The complex movement of the horse helps to improve coordination, balance, muscular development and fitness. Horse riding and horse related activities assist greatly and often dramatically in the development and restoration of personal confidence, self-esteem, communication skills, leadership and trust. For people with challenging behaviour, horses offer a powerful medium for restoring a sense of personal control, which significantly improves behaviour towards family, carers and friends.
---
Community Access
---
Accessing various community venues is a fun and social experience. This activity provides opportunities to explore and be involved within our local community
---
Ten pin Bowling
---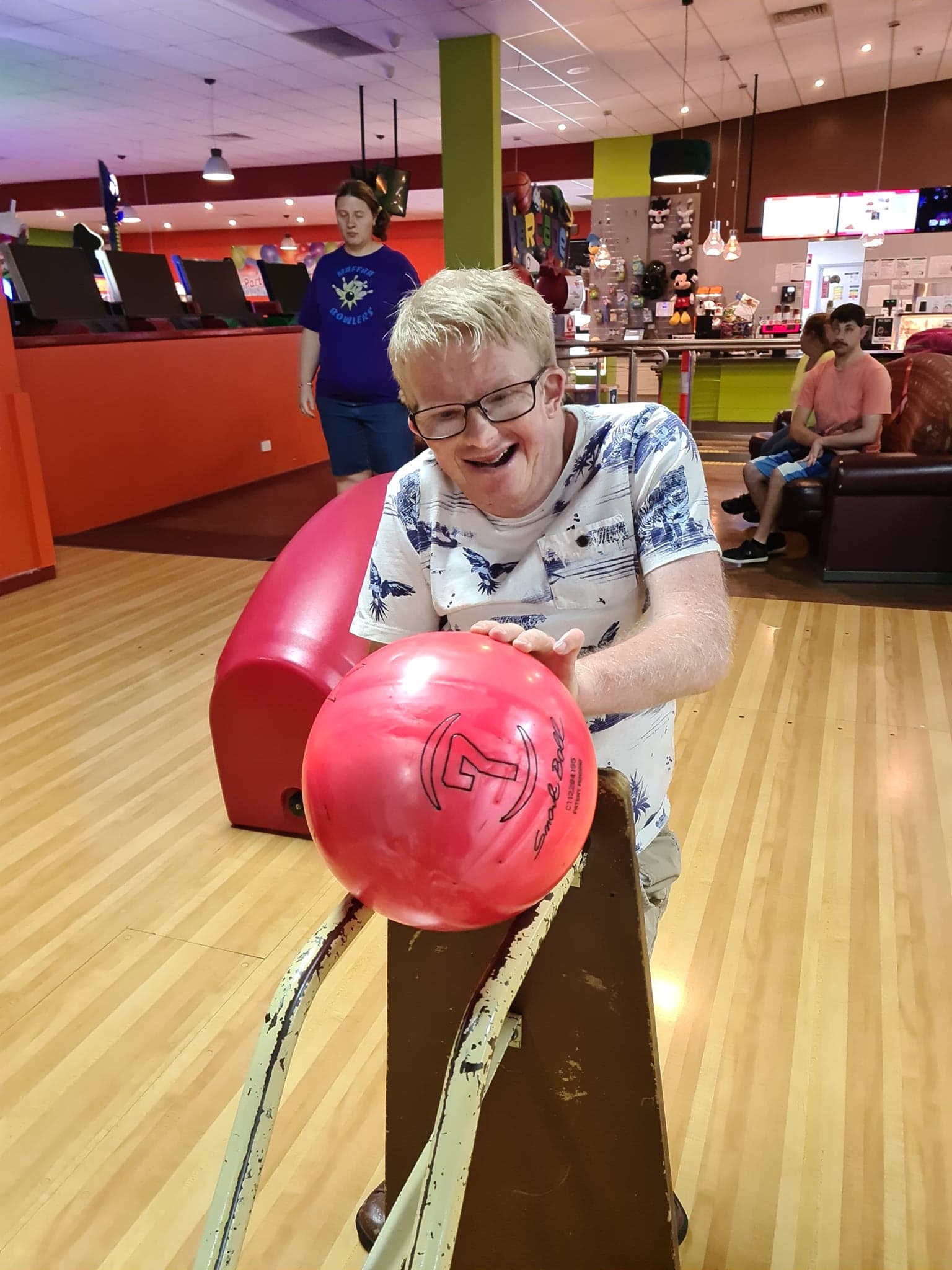 Ten pin bowling is a fun and exciting game where individuals have the opportunity to participate in a competitive game in a safe environment. The art of bowling has been around for many years and it brings together many people from all ages and abilities where they can participate in a loud and colourful sensory environment.
Ten pin bowling provides the opportunity to improve your gross motor skills and hand and eye coordination skills. It also provides the opportunity for lots of helping roles and the development of social skills, such as taking turns, encouraging others and patience.
---
Hydrotherapy/Swimming
---
Swimming has a range of health benefits and the GGC Swimming Program makes sure every one of them is covered. Swimming can improve your physical health, your strength and endurance as well as your gross motor skills and coordination. Swimming also has an amazing therapeutic and sensory affect allowing relaxation and stimulation of the senses at the same time.
Our qualified Swimming Instructor oversees all of the swimming groups and ensures everyone who participates has their own individual program and are working towards achieving their own swimming goals.
---
Gymnastics/health and wellbeing
---
The gymnastics activity allows particpants to develop fitnes, flexability, confidence and strength. Particpants have the opportunity to use a variety of equipment including rings, beam, foam pit and floor exercises. This activity is supported by experienced gymnastic teachers at the Maffra Gymnastics Club.
---
Outdoor Adventures
---
Participants will explore our beautiful local environment including national parks in the area. Engaging with this activity gives the participants the opportunity to increase well-being and fitness and allows them to get out into nature and interact with peers.
---
Ladies of Leisure
---
This Ladies group gather weekly to enjoy socialising with friends. The group also participate in Art and Craft including sewing with Jenny B. The ladies regularly head out in the community for a coffee and cake. The ladies are also lucky enough to engage in pampering activities.
---
Sensory Awareness/interactive games
---
Encourage the use of all the senses with this activity which inlcudes music, technology,physical activities, cooking, walks,and crafts. Particpants are encouraged to take part in the many aspects of these sensory based activities.
---
Music Expression
---
Participants have the opportunity to learn to express themselves through the use of musical instruments, singing and dancing. A very social and fun activity for all lovers of music.
---
Basketball
---
The community based basketball activitypromotes team work, fitness, supports movement through skill development drills and a competitive game of basketball. The competition is based at the Gippsalnd Regional Sports complex.
---
The Funky Beats Choir
---
Participants will enjoy singing & performing in a fun and welcoming environment
Participants can increase self-confidence through performance.
---
Tactile exploration
---
When participating in this activity clients will have the opportunity to enjoy various sensory experiences in a relaxed and peaceful environment. Participants will enjoy storytelling through multiple senses and the chance to interact with the Active to Touch technology.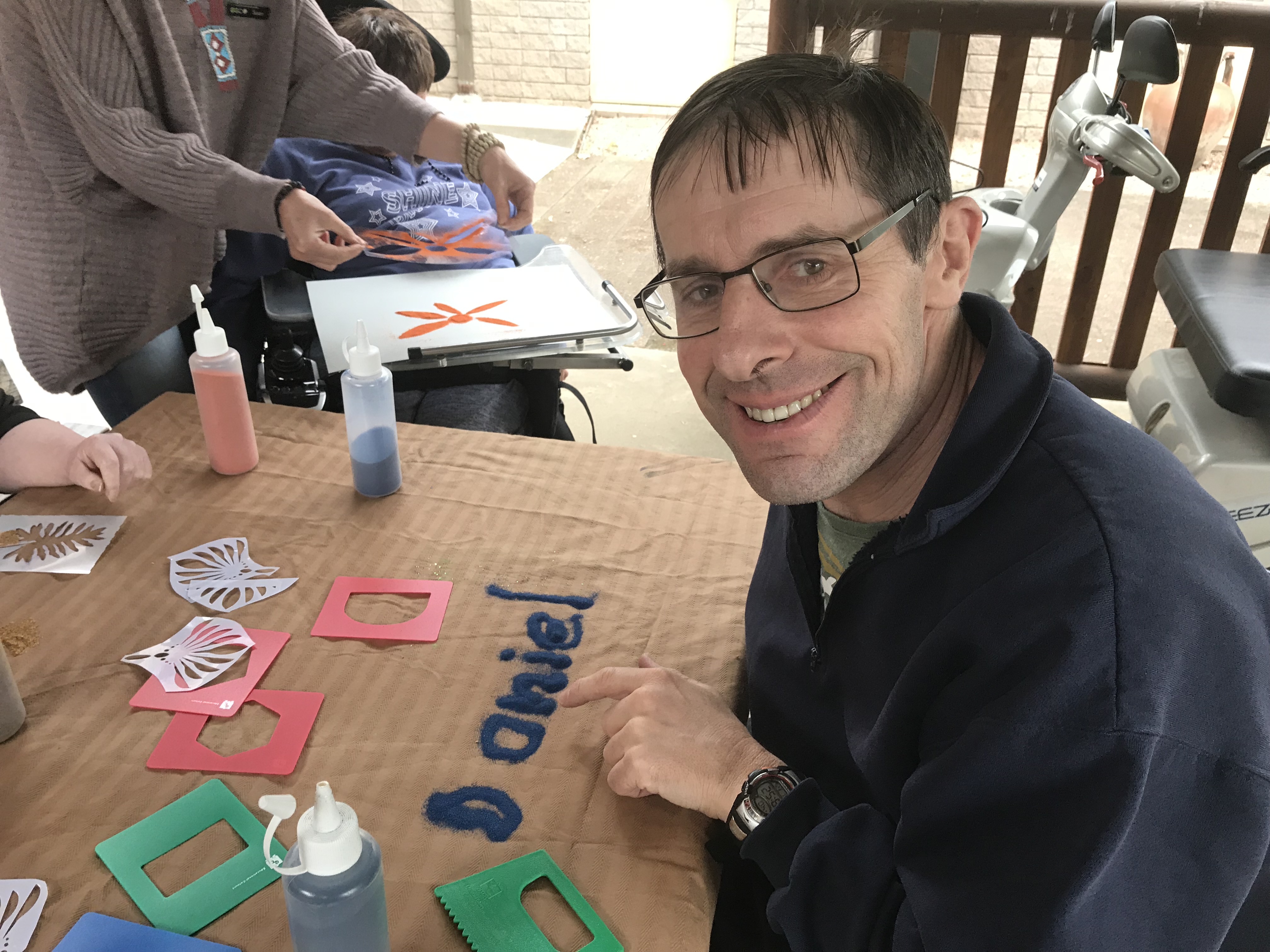 ---
Recycling Art
---
Using a variety of recylceld materials, participants will have the opportunity to use their creativity and the world around them producing expressive works of art.
---
Drama
---
This is an amazing opportunity for individuals to join the George Gray Centre Drama group.
During the sessions clients will learn various drama routines, focusing on self-expression, self-esteem, team building and a range of tools to use to express different emotions.
This is a fun filled day where individuals can act out in a safe environment and increase their total wellbeing.
---
Martial Arts
---
This is a fun and active martial arts class with instructor John Woodin. Participants will develop fitness and strength in a safe and supportive environment. Instructors will support participants to develop a range of martial arts sequences.
---
Jenny B
---
Jenny B is a very well-known local Embroidery, quilting and sewing tutor who regularly visits GGC to assist our clients with their individual projects.
This class offers creativity and an opportunity get your hands busy and create and relax with this fun class. All materials are provided.
---
Leaps and Bounds Dance
---
This activity is facilitated by a qualified dance instructor who will teach a variety of dance routines in a fun and safe environment.
---
Swimming Health and Wellbeing Maffra
---
This community based program is based at Kemp Aquatics in Maffra. Particpants work on basic swimming and water safety skills as well as enjoying the warmth and benifits of exercise of within the water.
---
Community Access/ Lunch prep/individual projects
---
This activity gives the opportunity to choose options of community access, cooking or doing your own indivicual project,
---
---